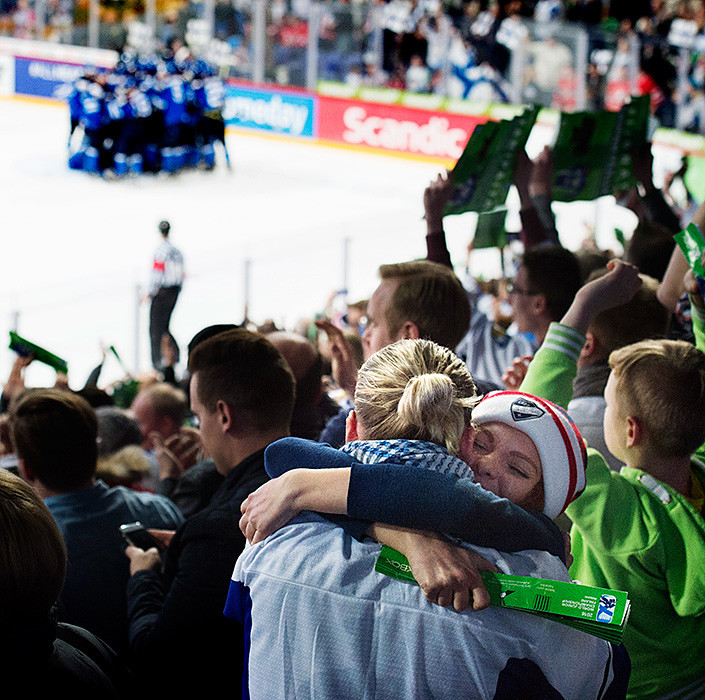 It was an incredible night, the crowd in Hartwall Arena was ecstatic. When Finland beat Canada in a deciding quarterfinal, 6-5, a Finnish couple hugged each other, showing true emotion of sports.
I have been in Helsinki, Finland since December 26, 2015. The assignment is the IIHF World Juniors Championship, ending January 5th. I have been covering all the World Junior tournaments since 2007 and all Men's World Championships from 2009 and onward.
I had just got to the arena after covering the Sweden vs Slovakia quarterfinal (quite boring game really) and were only able to shoot the third period of the host country's game. Generally speaking you want to be close to the sport and have a position as low as possible, in order to capture the athlete's eyes. This is however not possible in this tournament because of the "plexi glass" material – we can't photograph on ice level as usual.
At this elevated photo position I had briefly noticed this couple. And when the player's celebrated (top left in the frame) as the final whistle blew I had them in my periphery. In my view this moment shows as much rejoicing as down on the ice.